…today we go racing. Race week is beginning and we've completed the final evening of practice week.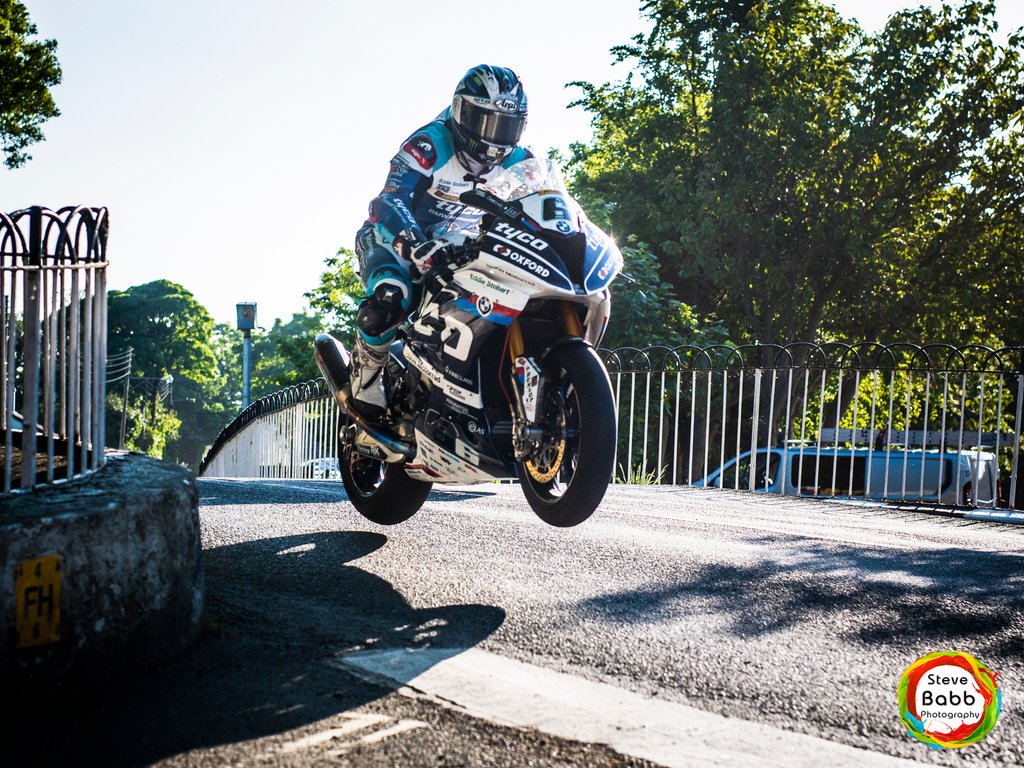 It was a bit of an interrupted practice session on Friday It rained overnight once again. The Mountain looked eerie as the mist lightly smothered it. The haze was noticeable, but by 4pm the skies were clear, sunshine had appeared and the only remnants of the rain were under the trees where damp patches clung to the road.
During the day the Mountain course is a public road. It's open. There's two-way traffic, well there is until you reach Ramsey hair-pin. It was decided a few years ago that for the TT fortnight the Mountain would become one-way in direction of the course. This was in hope that it would reduce the number of accident that were seen on the open roads during this period. We still get a fair few accidents mind and I personally don't think there's any less or more. I came across one this morning on my way to work just before Snugborough industrial estate – a 40mph limit. Bits of bike were strewn all over the road, traffic was chaos, but the rider was fortunately okay. Up on the mountain it is de-restricted which means there technically is no speed limit. Don't drive/ride dangerously is the only rule in the eyes of the law. The UK's 'national speed limit' sign is our 'put your foot down' or in this case 'twist your throttle' sign. You get so used to just driving or riding at your own speed on this little island. A queue of anything more than four vehicles is a traffic jam… Of course not everyone travels at 100mph everywhere and we do have speed limits through villages, along long straights like the Ballamodha, etc., but it's nice to have that little bit of freedom.
During the TT fortnight some of our de-restricted signs disappear and they are replaced with 50mph speed limits to once again hopefully decrease the amount of accidents. Personally I don't always think speed is always the reason for the accidents we have here on open roads during TT. I'm pretty sure I read somewhere that around 40,000 people travel to the island for TT. That's a hell of a lot more traffic than us island fellas are used to! Yeah, okay, some people ride like dicks. They get a little bit excited that they get to ride on the same roads these racers race on. They overtake on blind bends, they filter at 60mph, they use the wrong side of the road and try to be the next Michael Dunlop… but that's where it all goes wrong. I try and avoid driving on the Mountain for this very reason during TT. These bikers don't mean to crash… if they do, they're either going home as foot passenger, in a cast or worse. It's not what they want, but sometimes they don't really help themselves. The other issues is mirrors. This isn't just a problem on the Isle of Man, but instead it is a worldwide issue. Car drivers who have not ridden a motorcycle do. not. check. their. mirrors. enough. I constantly check my mirrors. Today I looked in my mirror – no bike. I quickly glanced at it maybe a second later and a Ducati Panigale was up the right-side of me. If they want to be idiots – fine, but try and protect yourselves both in a car and on a motorbike. It just takes that extra glance.
Anyway, someone crashed up on the mountain. The police closed the Mountain road to deal with the incident. A road sweeper was called to clear up the mess that was left, but when roads closed at 6pm a Travelling Marshal and Inspection Course Car had deemed it unsafe to race, so the road sweeper was once again called to deal with the mess. The 35 minute delay to the start of practice felt like a lifetime as it usually does. Stood at the top of Station Road in Kirk Michael, the platform was heaving. Luckily we snuck in and found a prime spot. Surrounded by bikers of all nationalities. Whilst 'mission road sweeper' was go, there were reports of a drone being flown above Bray Hill. It is illegal to do so during practice and races due to airmed and media in the skies. There have been so many warnings issued regarding this and still people disobey it. This for the safety of others, not just the racers, but officials too. Don't be selfish, don't be dangerous, you're putting lives at risk.
Finally we were about to see some action. Over the paddock tannoy CoC Gary Thompson stated that riders needed to work with him tonight as there would be stationary yellows at the Verandah and waived yellows at Graham's memorial up on the Mountain due to any residue that may be left from the road sweeper or the crash that occurred on open roads. The CoC was very clear that riders must slow down in anticipation for what might be lurking on the surface of the tarmac which would disturb the tyre and ultimately end in a situation that no one wanted.
Dean Harrison and James Hillier took to the roads first. Michael Dunlop was near to the front, but shuffled himself down the starting order to start Friday's final practice session off. I was sat in Kirk Michael – my usual spot. All excited for them to appear. Holy smokes… they seemed quicker than ever through the little village. You can see them appear just by the Mitre pub. Their front wheel almost grazes the right-hand curb as they come round a slight bend, before they're back on their race line to hit their apex for the next corner just before the shop. You can see why people say it's the fastest village… it makes you pull all these funny face when they fly through. You almost forget their human. 
Harrison completed his first at 131.56mph remembering that yellow flags were up on the Mountain meaning all riders time would be slower through that section that normal. Always makes me laugh a little when I mention a TT rider and 'normal'. They're not normal for these two weeks of the year. They're oozing talent, they're brave, they're committed.  They're on two wheels racing to be faster than everyone else out there, they want the podium position, that top step, that lap record… the moment that helmet is shoved on their heads, t's business as usual.  Then, on Monday, Conor Cummins will be back in his coffee shop in Ramsey (it's called Conrod's, go and try it, the coffee is amazing!) and unless you knew he was a racer (and if you didn't grasp that when you're in said coffee shop) you wouldn't even know he'd just flown round this famous Mountain course at 130mph. 
Dunlop topped the sheets on his Tyco BMW at 132.33 before heading back in to talk suspension, body language suggesting the BMW was all over the show, and then jumped onto his Stocker. I'm guessing he's shouted about all the things that he thought were shit, things that need tweaking and things that are just wrong. Next I'm sure his mechanics, the technicians will be working like little ants running around to get that perfect set-up ready for Saturday's race… it's 6 laps remember. 
Ryan Kneen, Dan's younger brother, had announced on Facebook that he was to take to the roads this evening. He wrote:
Just letting everyone know I am doing a lap tonight. Setting off last so I should be the last bike through. Going to wear Dan's spare helmet so give us a wave I'm #34.
The emotions. I could not imagine what that must be like getting back on a bike, back on the same course, the same road. To keep your head together, the tears back, but it's what they know best though… bikes, racing… how else could someone give Dan the tribute that he so well deserves? Taking his helmet for one last trip round the Mountain course, the last time we would see that helmet, that design race around the roads again. I have the utmost respect for Ryan for doing this only two-days after. I know people who don't really watch the races appeared at the bottom of Bray Hill or similar to watch. It was beautiful, it was emotional, it was fast. It was perfect. Ryan left the grandstand to a standing ovation and applause – the same as what greeted him around the 37.73 mile course.
Then red lights appear on the bridge. A red flag is prepared to be waved at the Grandstand. That sinking feeling consumes you. Then we wait.
Up on the Mountain once again there was an incident at Hailwood's Rise. All riders involved were reported to be okay, but a significant amount of oil had been spewed over the road. A slick that big marshals couldn't control it under waived yellows, so they radioed for a red flag and a road sweeper.
15 minutes later it was cleared and riders who were out on course were led home back to the Grandstand by a TM showing that the red flag procedure really was implemented with immediate effect. Once again CoC told riders yellow flags would be displayed at numerous places over the Mountain for their own safety. They must abide by them and anyone who didn't would be reported to Race Control. Now that's serious business.
The solo's didn't get much time out on the roads. Some maybe got three laps if they were lucky. Johnston, Johnson, Cummins, Harrison to name but a few hadn't even made it back to the grandstand under the control of the TM when the session was restarted. They had to have a manic bike change or team chat before they set off again on their next lap. It seemed to suit Dunlop, however. He's not completed two consecutive laps all week.
The session got back underway at 7:45pm. Hillier and Dunlop were away first once again with Michael posting a lap of 132.66mph whilst Hillier completed his first 130mph just 0.64mph over. Hickman also chipped away on his Superstock machine with a lap of 130.83mph with David Johnson just above the 130mph barrier too by 0.1mph. Don't forget, in this type of racing 0.1mph can mean a race win. 
The solo session finished at 8:05pm before the the Formula Two Sidecars began their laps at 8:10pm. 
John Holden/Lee Cain were first away followed by Ben and Tom Birchall, however the Birchall's stopped at Ballacraine… exactly where they intended to. I'm guessing a new engine may have been in so they didn't wanna thrash it too soon. Probably a new chain that they needed to loosen off slightly and some new tyres to scrub in… but not too much. This is the first time in a while that I've known racers to be so tactful in what they're doing. It's not like you can just race round a 2 mile track to scrub your tyres in. Oh no. This is 37.73 miles or pull up until the end of the session. There aren't many places you can pull of the course and make it back home to the Grandstand. 
Holden/Cain were fastest on the opening lap at 115.73mph. Founds/Lowther lapped at 113.56mph, Founds/Walmsley 11.354mph on their second lap and Reeves/Wilkes also over the 113mph lap by 0.198mph. Molyneux/Sayle, meanwhile, sounded like they were having issued through Kirk Michael… they looked like it too. They were, however, going about their business. Focused, Dan flat on his stomach with his legs hanging off, maybe just running something in or testing something… they were 15mph off the pace, probably around 4 minutes behind. The first sidecar race is Saturday, so be prepared – it's always a cracker!! 
Saturday marks the start of the 2018 Isle of Man TT week. The week we've all been waiting for. The week that racers have been working towards. Ten or eleven laps later they've got a Superbike race to contest. We've had some amazing weather so far. Road temperature is hot, the rubber is down & I can already see lap records being broken officially. We have seen an exceptional pace set by Harrison with the unofficial 133.462mph. We know Dunlop is a bull in china shop round here, we know he's quick, we know he's hungry. We're not exactly sure what Dunlop can do on that Tyco BMW however, as he's not put in two consecutive laps full throttle as yellow flags donned the Mountain. I have no doubt that the hammer will be down with the Tyco team and Dan in mind. Cummins is flying round here like the Manx Missile he is and Hickman is constantly increasing his lap speed and decreasing his lap time. Soon they will all line-up on Glencrutchery Road under that arch. Cummins will start them all off with that tap on the shoulder as he sports the number 1 plate this year followed by Hillier, Rutter, Hutchinson, Harrison, Dunlop, Gary Johnson – all 10 seconds apart. I think we might just have a race on our hands.
Will we see lap times and records broken? Will it be Dunlop on that top step? Will Cummins take his first TT win? Will Harrison? It's a six lap Superbike race. Two pit stops. anything could happen.
…but now – we go racing.