We are now all aware of what happened on Wednesday evening, an evening many of us wish we could forget. I won't go back into details, but you can read about it here..
Whilst the incident in Churchtown was dealt with another incident occurred. I do not know what happened other than some kind of miscommunication took place which had severe consequences.
During a full course red flag an incident occurred between a rider and a course inspection car. Said car was travelling along the TT course on closed roads with, whom I presume, were police officers in luminous yellow being sent to attend the incident at Churchtown which we later found out was fatal. The police are not usually involved during the TT races unless there is a serious incident. The bike will be taken away for examination and a full inquest opened. The course car flew through Barregarrow and that was the last we saw. I don't know what happened at Ballacrye; I wasn't there. What I do know is something went terribly wrong.
Some riders were making their way back to the grandstand the wrong way round the circuit. This isn't uncommon when an incident has happened, but usually if it does you know something quite serious has happened. There were photos taken at Sulby Bridge of riders waving to spectators. They didn't look to be going fast which later was confirmed by a spectators video. They don't often to get to ride round this course on closed roads at slow speeds. At that point racers would not know why a red flag had to be waved, of course unless they were near, and it's not often they get to ride on the close road TT course at speed slow enough to take in the atmosphere. Programmes waving, people cheering, children jumping up and down with Cheshire cat grin's. I remember McGuinness saying after one of his races something along the lines of 'Programmes being waved. I could hear the crowd over the Superbike and through my helmet.'  It must be pretty special to be able to soak all that up, to enjoy the moment instead of thinking about the next 7 corners or whether you're in Kirk Michael or Sulby.  I don't what happened in that sector, I don't know what race control said, I just don't know. All I know is a rider sustained serious injuries.
A statement issued on behalf of ACU Events Ltd was as follows:
TT Race organisers ACU Events Ltd can confirm that a rider was involved in a collision with a course car at Ballacrye during this evening's qualifying session at the Isle of Man TT Races.

The rider has been taken by airmed to Nobles Hospital. This followed an earlier incident during the Superbike session at Churchtown which the course car was attending.
Yesterday Jackson Racing confirmed that their rider Steve Mercer was involved in the incident at Ballacrye and that he had been sent off-island for further treatment. Steve's wife wrote the below on Facebook:
I'm sorry to say Steve has sustained serious injuries this evening following an accident on the way back to the Grandstand. He has been flown to Liverpool this evening where he will be assessed further ascertain the full extent of his injuries.
I've seen some horrendous comments on social media and even worse I've seen some horrendous articles written by high-profile media outlet which are so far from the truth I think it's all fictional. These high-profile media outlets don't know anything about motorsport. The person behind the computer typing away is probably some robot picking out the doom and gloom. They're probably never had their leg over a bike, never watched a British Superbike round or maybe never even heard of the Isle of Man TT until a fatality occurred. Now they're jumping on the band wagon of the second incident because they can't blame the rider for being 'stupid' or 'insane'. These racers have families. Show a bit of respect.
Shortly after it was confirmed by an ACU Events Ltd statement that Steve had been flown to Liverpool for further treatment and that a full investigation was being conducted.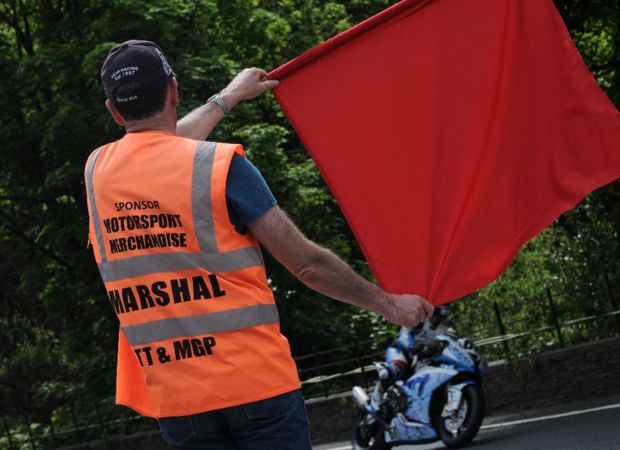 Yesterday the red-flag procedure was updated with immediate effect following Wednesday's incident. In short, the procedure is as follows:
Red Flag instruction will apply to the entire TT Mountain Course irrespective of where that incident has occurred. There will be no movement on the TT Mountain Course by any rider until the incident has been cleared, regardless of how long that incident may take to clear.

The riders will only be permitted to move in Course direction under the control of Travelling Marshals at the front and rear.
Don't go blaming marshals. Don't go blaming the rider. Don't go blaming control or the CoC. Don't go shouting your mouth off about 'how on Earth could this have happened'?
Gary Thompson, Clerk of the Course, is one of the best. He's experienced, his knowledge is impeccable and he's got the weight of the world on his shoulders. Since he has been CoC things have run smoother than ever. Marshals are no longer subjected to long delays, they're kept up-to-date and are now well informed. Quick decisions are made about delays as well as whether racing is to be abandoned due to bad weather or similar and updates sometimes even included 'we're just rounding up some sheep on the Mountain. 20 minute delay.' Definitive and concise decisions are made and by no means are they easy decisions. Obviously the job of CoC is not just to keep everyone updated. It's to ensure riders, officials and spectators are safe, it's ensuring everything complies with ACU regulations. It's giving newcomers a firm talking to for being dangerous (as we saw in last year's Manx Grand Prix), it's dealing with incidents whether they be minor or worse. It's updating procedures and it's probably two weeks of insomnia. There are of course more to the CoC role than the above, but it keeps you an insight into that world up in the control tower. I for one would not want to be in Gary's shoes. He does an amazing job and deserves more credit than he gets as do some other people at the Isle of Man TT…
We couldn't race on this 37.73 mile course without marshals, the orange army. Many marshals are IMC (Incident Management Course) trained. This includes the basics of what flags mean, use of the Tetra radio and first aid training with the inclusion of safe helmet removal and CPR. Marshals are volunteers and its takes over 520 to become the eyes and ears for Gary – CoC. Without marshals the races cannot take place under any circumstance. We have had years where we've struggled for marshals and due to this there have been times where it's caused a delay to racing.
Marshals don't get the credit they deserve. Yeah, okay, you get some who sign on just to watch in the best spots because it's true… there ain't no better view at the Bottom of Barregarrow than where us marshals stand. But there is a job to be done. An important one. The reason your are on the island, the reason you are watching is because you're watching the greatest road race in the world. Without people doing this 'job', you ain't watching it! You get some who take the p… and those are the ones which tar every other marshal with the same brush. Don't write on social media how shit marshals are at such a point because I can guarantee you there will be at least two marshals at that post which are ready, reading every race number even to the point of seeing the plate colour in practice. It's the small details. They'll be watching and they'll be ready regardless of who else is around them. Everyone is given a job from rider to bike, debris to airmed guide… and every marshal just hopes they don't have to do their job.
My heart goes out to any marshal who has had to endure an incident. To pick up the bike bits after I know it's what we all sign-on for, we are prepped as best we can be, we are equipped with the best equipment and guidance from race control, but in that moment, that fraction of a second none of that would matter. Until your brain goes into overdrive and you're subconsciously violently waving a yellow flag in a figure-of-eight just hoping other riders see you in time. For those who had to deal with the incidents on Wednesday night I commend you. You are brave and please just know that you all did whatever you could because that's what we do. Don't question yourself for a second.
Steve's wife has given a further update on his condition:
Just to give you an update, Steve had surgery early Thursday morning for pelvic and leg injuries which went as well as the doctors could have hoped at this stage. Other injuries include a broken ankle, heel, T12 vertebrae, a fracture to his larynx and damage to his neck which means he's not currently able to breathe for himself without support.

They're keeping him heavily sedated most of the time to make him more comfortable whilst he recovers from his injuries. Thank you so much to everyone who has helped us to get over to him so quickly and for the hundreds of messages of support we have received. I have been reading some of your messages out to him to let him know everyone is rooting for him to get better.
Come on, Steve! This may just be the biggest journey you've ever been on, but we're all behind you!