Wednesday 6th June and it's the third race day of the week!
We decided we'd stay at home for the day and instead venture alllllll the way (1 min walk) to the top of Station Road and plonk ourselves on the decking next to Motors & Mowers. At least it's handy to pop back for the toilet, food or to let the dog out! It's sounds silly to say this, but two-weeks of this really does tire you out! Up and out early, the adrenaline, the late nights due to watching stunt shows on the prom or dancing around Bushy's. Imagine how those racers must feel if us spectators are complaining we're knackered. My other half had taken our trusty camping chairs up with coffee and snacks and I wandered up the road just before roads closed. That was us then until lunchtime. The sun was blisteringly hot. We had to share our suncream around as people had completely underestimated the Manx weather… anyone would think it rains most of the time! 
No delays were announced, conditions appeared perfect other than a burst water main which was just slightly leaking onto the road near Ballagarey, but nothing major at that moment in time. After the Supersport 1 race every one appeared to be excited about this. There were German's to our left with a signed Hickman cap, Welsh to our right and a gaggle of Yorkshiremen with their Yorkshire rose flag. Okay, so I was sandwiched between Hickman and Harrison fans… the two who were probably about to fight it out on the road for that top step and I was slap bang in the middle.  Fabulous – lets see how this one pans out!! 
TT tan update at around 11am – Britten pink. 
As we've seen all week it was Conor Cummins who set off the field from Glencrutchery Road, but on the leaderboard Harrison took that number one position at Glen Helen. 1.8s separated Harrison and Dunlop with Hillier a mere 0.4s back. Cummins slotted into fifth just behind Hickman with Gary John sixth. When Harrison was due into view at Kirk Michael all I could see was that Yorkshire rose being waved around. Good job it wasn't the Manx flag… bit shit having an all red flag when you think about. By Ramsey Hairpin Harrison had increased his lead over Dunlop to 2.7s with Hillier in third, but after his Superstock win on Monday under his leathers it appeared that Hickman was hungry for more of that. The gap to Hillier was now only 0.1s. 
Harrison's opening lap of 128.188mph gave him a 3.6s leave over Dunlop with Hickman grabbing that third spot from Hillier over the Mountain. Cummins remained in fifth with Padgett's team-mate Lee Johnston moving up to sixth ahead of Josh Brookes. As they sweep through the lefts and right round Laurel Bank, Black Dub and up through Glen Helen on the second lap, Harrison had increased his lead to 4.5s over Dunlop. The lead was increasing as Harrison set a 129.099mph – just a fraction outside Dunlop's lap record from the first race on Monday. 8.3 was the lead as he came into the pits. This is where the drama began. It was announced over the tannoy that Dunlop had incurred a 30s penalty for exceeding the pit lane speed limit by 0.2km/h. I remember this happening to Guy Martin a few years back and boy did we all know about it. He wasn't happy, he was fuming. Lots of toys out the pram, dummy spat and some colourful language. It's difficult having to accept a 30s penalty with racing as close as 0.1s it can bring you down maybe even into tenth position. Dunlop had his rear tyre changed, something Harrison didn't do, but it also saw Harrison up to a 18.3s lead over Hickman. Dunlop would have slotted into sixth following the standings after lap three, but by Glen Helen he was up to fifth. That podium seemed a long way off, but maybe it was possible? 
Speaking of penalties, it was also announced that there were time penalties given to two different riders as their pit crew were using mobile phones in pit lane. It states everywhere that you cannot use your mobile phones in pit lane, yet why did these people feel it was necessary? I believe it was a 10s penalty. A penalty which the racer didn't incur, yet instead it was their trusted pit crew that forced it upon them. I just couldn't quite believe my ears when I heard it. Madness. Utter madness. I feel sorry for those racers. They must feel very let down. 
Up to Ramsey things remained similar. Harrison was on a charge and pulling away from Hickman, and Hickman doing the same to Hillier. Dunlop was trying to close in on Cummins who now slotted into fourth after the 30s penalty had been included. As they crossed the line to begin their fourth and final lap of the 600cc race, Harrison had a comfortable lead of 19.5s over Hickman who looked comfortable in second having fought Hillier off who was back 7.9s. Cummins still had the edge on Dunlop. No lap records were broken, Harrison led the way for the entirety of the four laps, but did in fact break the race record as he crossed the line to win the second Supersport race of the 2018 TT!
Harrison had finally done it! He crossed the line, took the chequered flag – boom – that right turn into parc ferme and down the middle After the bad luck we'd seen Harrison have in the Superbike race on Saturday, I'd never heard cheers like it. Everyone was thrilled to see him on top of the podium followed by Hickman and Hillier – the 3 H's. Couldn't have happened to a nicer fella. This is Harrison's second TT win and one he's fought hard to get this year… and there's still the Senior TT race to go!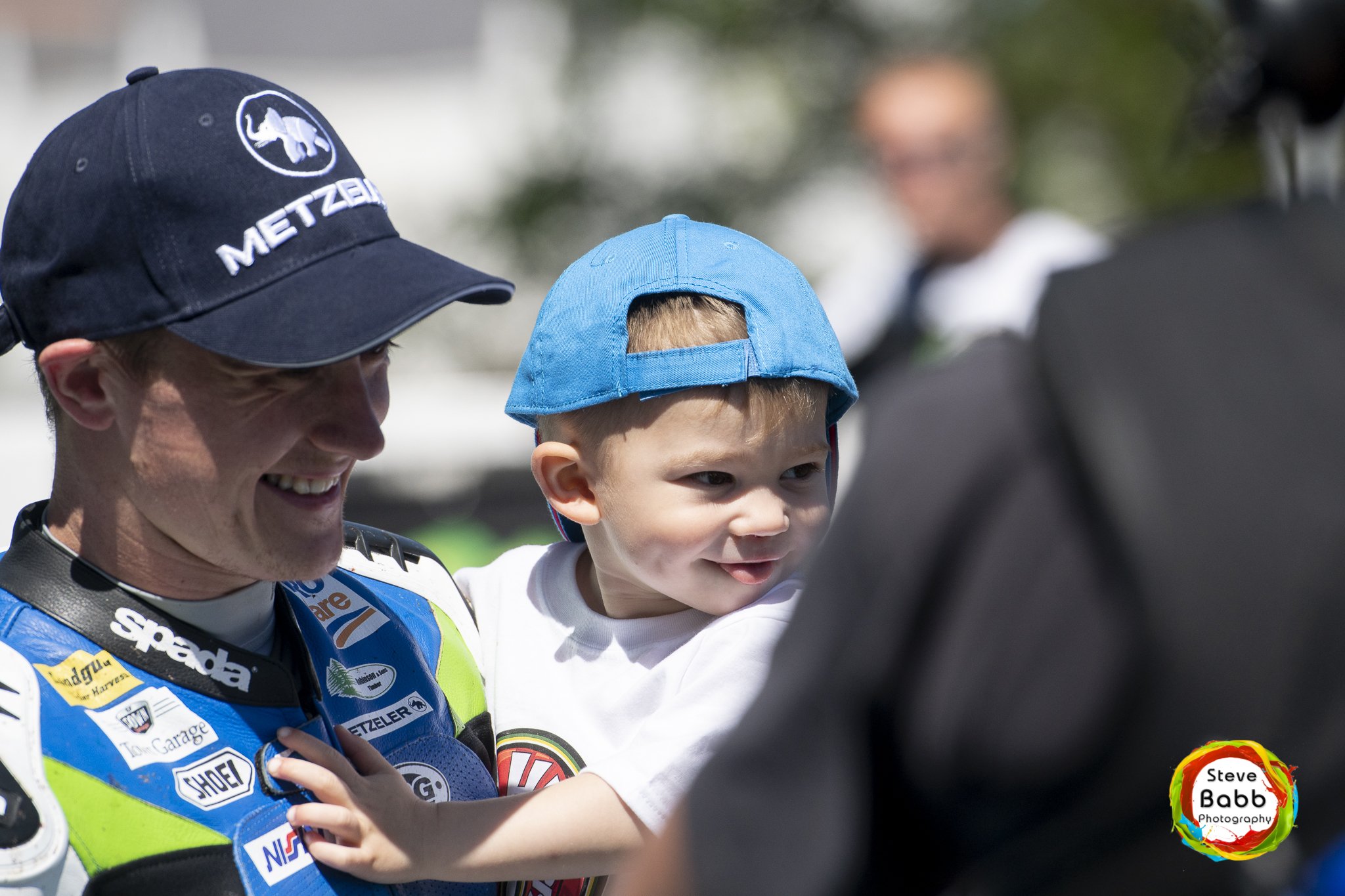 Cummins, Dunlop and Brookes completed the top six with Johnston, Johnson, Cowton and Ivan Lintin rounded out the top ten.
It's hard to think about what could have happened if Dunlop hadn't incurred that penalty in pit lane. Maybe there may have been a mechanical problem instead. It's really tough on these machines round this course. It's an endurance for them yet worse. The suspension takes a beating on these roads for example, the 600cc engines are revved to within an inch of their lives. It's a test of man, machine and mountain – one which Harrison had finally achieved. 
TT tan update – Ducati red. 
The Supersport TT was only the beginning of Wednesday's races, the Lightweight TT followed…